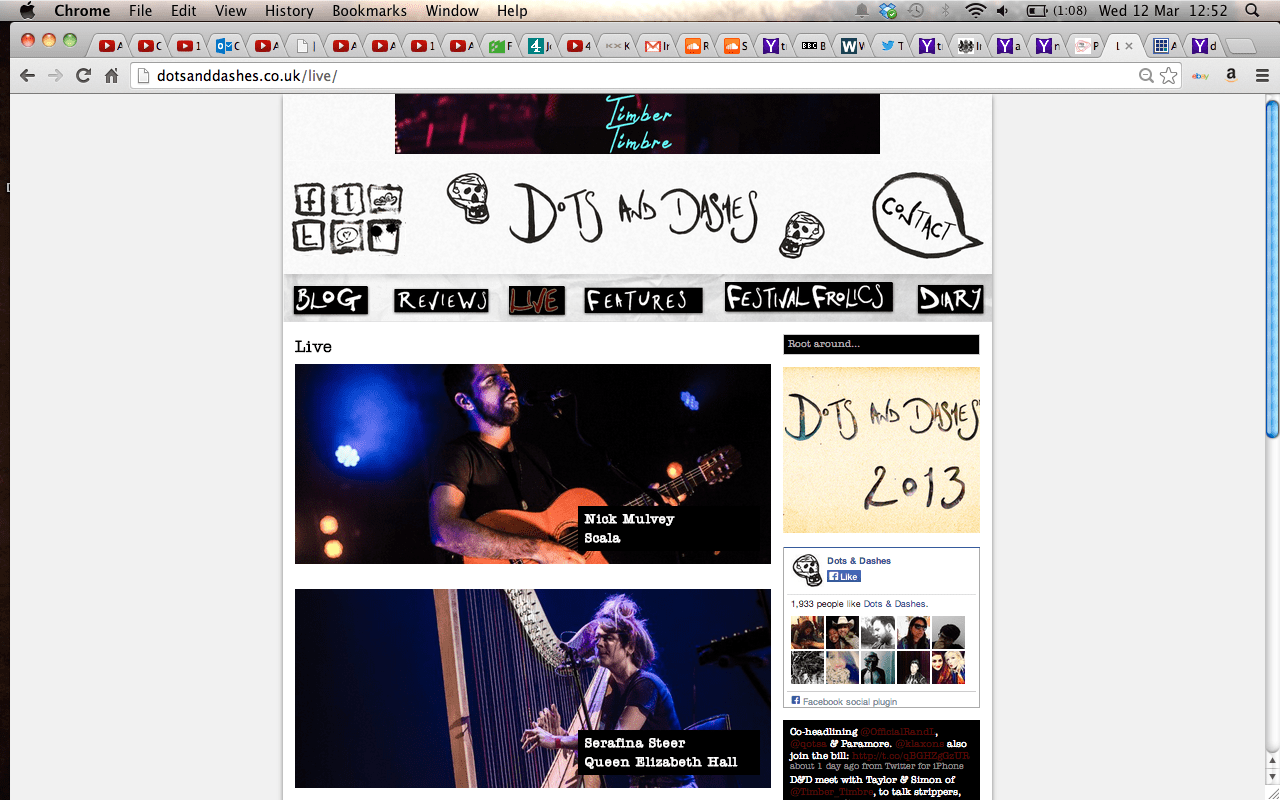 Dots and Dashes Review – WOW! Festival, QEH 08.03.14
I just loved reading this review by Josh Halliday from Dots and Dashes. So eloquently written, it's the most poetic review I've ever received. Thank you 🙂
Dots and Dashes Review – WOW! Festival, QEH 08.03.14
Truthfully, so too tragically, gender inequality within independent music still feels some way off. Quite some way off, in fact. Whether it be Speedy Ortiz' Sadie Dupuis tweeting, 'it's crazy i've been in guitar center almost 20 min and nobody has asked me if i'm here with my boyfriend', or the Pixies' seemed aversion to ladies named Kim, misogynistic practice still plays a hideously prevalent role. However on this, International Women's Day, Southbank Centre's WOW – Women of the World Festival provided a vibrant reminder as to why such antiquated ways should no longer continue.
Nonetheless, that said, does so flagrant an exhibition of exclusively female talent do more harm than good? Yes, it raises awareness for self-professed 'all-female, feminist choir[s]' such as Gaggle, although a PRS for Music Foundation placard reading 'Women Make Music' seems rather flippant, in truth. One needn't look further than some of the finest albums of this year thus far – those from Arthur Beatrice, Metronomy and St. Vincent, for instance – to see that not only do 'women make music', but many are currently involved in some of the most involving that is now readily available.
Similarly, the evening's perfunctory blurb reads: 'A special evening of music from some of the UK's most exciting female artists', before going on to extol headliner Serafina Steer in typically glib fashion, telling of how she 'recently performed on tour with Patrick Wolf.' Implicit, or rather more explicit gender subjugation? You decide.
What we can all happily settle on though, is that vanguardist cellist Ayanna Witter-Johnson is herself an ineffably 'special' proposition, irrespective of gender: swathed in bridal white, she references 19th century feminist conventions and sings of "negroes' rights" into a Madonna mic; recites affected poetry and dedicates songs to Nigella Lawson, those lifted from this year's Black Panther EP intimating toward a roaring form still to come.
Sat crestfallen on the floor, she'll sing of "a light [that] grows dim, as I go into hiding" during the pared-down Denied, plucking her strings as though they were those of a weatherbeaten Selmer-Maccaferri. She'll loop beguiling sweet nothings during Grandma's Hands, soothing of how they "clapped in church on Sunday morning" and "played a tambourine so well." And, if rhythmically stark, you can't help but sense that Witter-Johnson inherited plenty of musical prowess from her forebears.
It can be heard as she saddles up behind a piano stage-left, the EP's title track hearing another irreproachable vocal line combining with elegiac keys akin to porcelaneous ivory. However, it's an inexpressibly expressive, cello-led rendition of Roxanne, executed under dense reds, that steals the show: the song, sounding considerably better than it ever has previously, really stands out tonight and, hyperbolic though it might at first seem, rarely has this evocative a classical schooling been so cogently applied to contemporary pop music.
And so to Steer – the architect of one of so many outstanding albums of 2013. The Moths Are Real was a breath of refreshing, airy fancy in an otherwise dour January and this March, as she initially sheds her "mild-mannered alter ego" to lambast he who so listlessly abetted her latest relocation during The Removal Man, the record is born anew, reappearing gloriously from its proverbial cocoon. "I don't actually hate men!" Steer will proclaim, prior to embarking upon the microKORG toe-tapper, tonight replete with Kraftwerk-like shimmers. It's little wonder that she should choose to unpack this song first, given that, within the context of the record, it's something of an outlier, this effervescent electro-pop stomp some way away from the arcadian charm of all that surrounds it. Island Odyssey, during which Steer begins in appositely emancipatory prose: "I am an island, you are an island", sees her relocate to her trademark harp, the song indeed retaining the ebullience of its predecessor. And that despite her macabre, repeated proclaiming, "They killed your pigs and drank your wine."
Reputedly due to her having taken part in a panel earlier on in the evening, if Steer immediately sheds her "mild-mannered" disposition, then she also manages to shake off her typical reticence, too. For palpably absent throughout, the spectral electro timbres to a wry, so too resplendent How To Haunt A House Party enthral with ease, as does a frustrated and terse Sexual Jealousy. "Sexual jealousy, made me feel so heavy" she coos, her tone incongruously chipper, before Alien Invasion proves rather more aquatic than otherworldly. With its mermaidian strums and Steer's thalassic soughing of her envisaging "big and benign blue creatures with extraordinarily unfinished features, sort of like mine", thematically, it's another of several anomalies. Yet in continuing eccentricity, it somehow fits in with, say, Machine Room, during which Steer bemoans: "Some adjustments must be made/ Because up above, you've made a mess of things/ Oh yes, you have/ In the real world." However, as she goes on to sing of "transformation, transformation, transformation, transformation, transformation, transformation, transformation, transformation, transformation, transformation, transformation, transformation", the irrefutable truth is that Steer is slowly burgeoning; becoming one of Britain's mightiest, brightest songwriters.
Josh Holliday