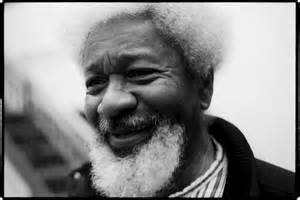 A Poem for Wole Soyinka
6.5.14 – Yesterday I attended a lecture given by Wole Soyinka – 'Literature, the African Condition and My Life' at the Sheldonian Theatre in Oxford. Amidst the cascading story that he so eloquently shared, I started to write. A few lines passed through me and it was a complete surprise to then find myself reciting those words to the man himself following the talk. I'm not a confessed poet but I declared my work to him and he agreed to hear it. He even chuckled mid way through 🙂
A Poem for Wole Soyinka – 5/5/14
What brings us here?
To these walls of stone and glass.
Your voice sits thick upon the heads of youngers, yearning for an inch of your bravery.
An uncompromising white afro, frames your invisible halo.
You've seen it all before, yet hope still dances in your eyes.
A stance once feared now endears you to the passive mass.
How do we ascend your heights, continue your path and light the way for those behind?
Copyright 2014 Ayanna Witter-Johnson